Let's suppose you were crafty enough to develop a time machine, actually step into it, and poof! You were teleported to the 18th century. While strolling around the cobblestone streets of wherever you are, you ran into someone who was interested in discussing the future of seafaring with you. So, being the nautical (and time-travel) expert you are, you explain that giant ships will be powered mostly with motors and some sparse amount will be powered with our sun to get loads of cargo to and from the New World. Your companion thinks you're a pretty funny fellow. In fact, he starts laughing at you.
YOU: "Why are you laughing?"
SMITHY THREEPWOOD: "You're totally mad"
YOU: "What? I'm telling you, I've seen it with my own eyes! Engines! They convert liquid petroleum into energy, driving crankshafts, and eventually huge turbines underneath the ship"
SMITHY THREEPWOOD: "Petroleum?! Wow, that sounds like quite a mess. Why abondon the sails. They pull ships along pretty well you know."
YOU: "There will be a need for enhanced speed"
SMITHY THREEPWOOD: "Ok, that makes sense.. so still though, why not combine a huge sail with your fancy, messy petroleum power? You'd probably need less of it and could be a little more profitable, no?"
YOU: "You know Threepwood? That's a pretty good idea. I'm gonna forward those plans on to Reuters in the UK for further analysis. Cool if I take royalties from your idea?"
SMITHY THREEPWOOD: "Surely. I imagine I'll be quite dead by 2008 regardless."
YOU: "Sweet. Thanks Threepwood."
So, wow now you hop back in your time machine, draw up some plans, send off to the Guardian Limited, and fancy that! You wind up with this image describing how a giant sail will drastically cut the cost of trans-atlantic sea travel. Here it is!
(Click the image to see full size)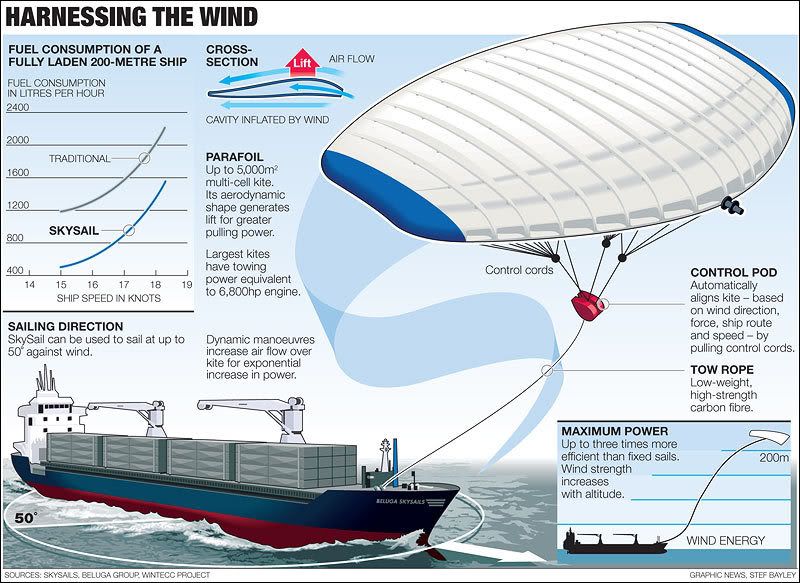 Last modified: December 14, 2018