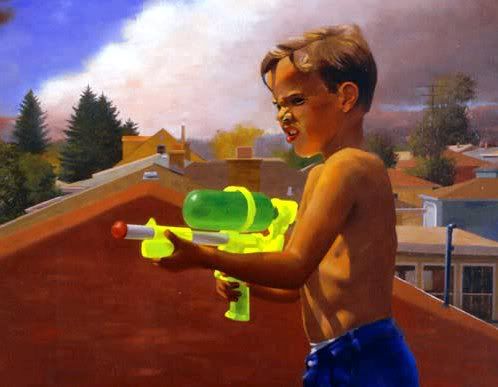 Remember when you were a kid, the first time you pulled the trigger on one of those clear plastic water pistols? Recall watching curiously as that thin jet of water oozed out of the front and splatting your favorite target from 6 feet away? Right.. well, possibly you're old enough (or young enough) to remember when the other kids on your block decided to show you what it now meant to fire a real water weapon, you know, the kind that required use of both hands (a vigorous pumping with one) and was capable of blasting you to smithereens from 20 feet away? Right? But, wow, then you got your hands on one too didn't you? To feel the thrill of that high powered water awesomeness? The same guy that made that water hurling munitions thrill a reality has now turned his focus to the sun.
His name is Lonnie Johnson.. and, guess what? He's really photogenic!
That's him right there with the glasses.
As you may or may not know, even the best solar panels are marginally better than 30% efficient. That is to say, out of 100 units of energy direct from our sun, solar cells currently are able to convert 30 or so into usable electricity. However, if Johnson's newest invention works as planned, more than 60 of those units will be able to be converted into usable electricity. That huge jump in efficiency will drop the cost of solar energy well below that of coal and oil.
Before inventing the Super Soaker, Lonnie was actually a rocket scientist (kinda makes sense, huh?). Millions in royalties from that toy have enabled him to patent over 100 products- from new lithium battery technology to this innovative heat transfer engine. Kudos to Lonnie, who did not sit on his laurels after inventing those impressive water munitions.
Paul Werbos, program director at the National Science Foundation, compares Johnson's invention to a conventional heat engine: "It still uses temperature differences to create pressure gradients. Only instead of using those pressure gradients to move an axle or wheel, he's using them to force ions through a membrane. It's a totally new way of generating electricity from heat."
The NSF has funded development of Johnson's invention – coined the Johnson Thermoelectric Energy Conversion System, or JTEC for short. JTEC rolls off the tongue a hell of a lot better, no? Mellifluous-ness aside, Johnson's invention provides hope and the necessary technology to drive a new green economy forward. Though John Edwards recently spoke to the need to create more "green-collar" jobs, and Hillary Clinton swiftly made that neologism her own, I'd love to see whoever the next president is actually pick technology like this up, create the necessary tax incentives to fund construction of its manufacturing facilities, and get more Americans working on this. Clearly, the technology is here, let's do something with it!
More on Lonnie's heat transfer engine here
Last modified: January 8, 2008